Electronic invoicing combined with e-discounting allows you to optimise multiple corporate functions all at once and benefit from lower costs, higher efficiency and improved liquidity: e-discounting delivers money to your account even before your customers have paid.
Less tied-up capital

A lower volume of accounts receivable reduces your balance sheet total and, by extension, strengthens your equity ratio and improves your credit standing.
Guaranteed liquidity

e-discounting allows you to sell us your outstanding accounts receivable from selected customers whom you have invoiced in EDI format. We immediately transfer the invoice total to your account at Erste Bank or Sparkasse. You decide for which customers you would like to use this benefit.
Your benefits:

Outstanding accounts receivable are immediately transferred to your account
You can take advantage of cash discounts offered by your suppliers
Higher equity ratio
Non-payment risks are reduced, which saves insurance costs
The key benefit of e-discounting is the seamless blending of two worlds into one electronic solution: you can send orders and invoices electronically in the proven EDI format, all while converting your accounts receivable into cash.

Lower costs

Rather than processing and sending invoices manually, all processes are automated. This reduces labour costs and saves printing, paper and postage expenses.


Higher efficiency

All information that you, your customer or the bank requires is transmitted in real time when sending documents via eXite®, EDITEL's EDI service. This speeds up all further steps, reduces mistakes and increases transparency.
 
More liquidity

Since we receive the invoice at the same time as your customers, we can immediately advance up to 100 % of the invoice total to you.
Your benefits:

Increased liquidity, improved balance sheet
More efficient accounting and administration
Fewer mistakes, less time and money required
More transparency and control
Tamper-proof and compliant with legal requirements
For your customers, everything will stay the same: your invoices will look like they always did, and outstanding accounts receivable will be paid directly to your account at Erste Bank or Sparkasse. The smart processes run in the background, invisible to your customers. You, on the other hand, will instantly boost your liquidity and strengthen your balance sheet significantly.
Here's how e-discounting works: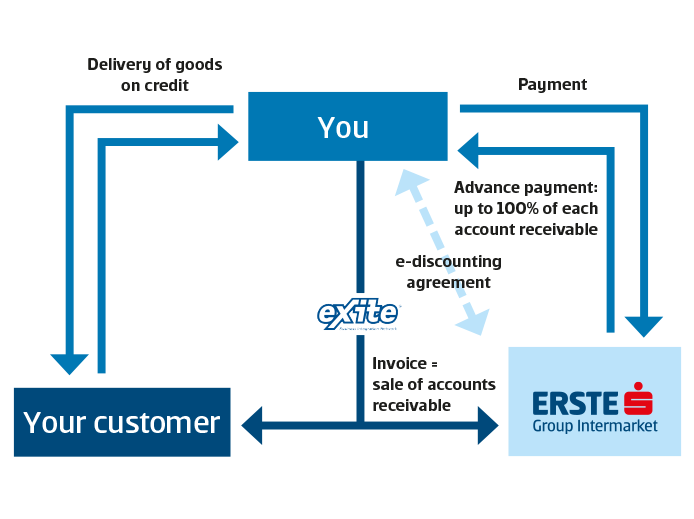 The steps are easy:

You continue to supply your customers as usual and invoice them using the EDITEL interface.
Your invoice is simultaneously sent to your customer and – as an electronic copy – to us.
We buy your accounts receivable and immediately pay an advance of up to 100 % (including value-added tax).
Your customers pay to your account at Erste Bank or Sparkasse.
The payments are automatically forwarded to Intermarket Bank.
If you are interested in e-discounting, please make an appointment with your personal advisor at Intermarket Bank. During this meeting, we will discuss all the details and set up an e-discounting agreement – everything beyond this point happens fully automatically.

Do you already have an account at Erste Bank or Sparkasse?
To use e-discounting, you need a business account at Erste Bank or Sparkasse that serves as a clearing account. Incoming payments from your customers covered by the e-discounting agreement will be forwarded automatically to Intermarket Bank. Sales ledger accounting remains your responsibility. We will regularly consult with you concerning any open items. With Telebanking Pro, the innovative corporate customers platform of Erste Bank and Sparkassen, you can easily keep track of your account movements online.

Worth every cent

We charge customary interest rates and fees for financing your outstanding accounts until we have received payment from your customers.  You gain new financial freedom and strengthen your balance sheet.