Factoring is a modern and flexible financing basis for your business.
Selling your accounts receivable allows you to obtain more liquidity fast and easily. You have immediate access to funds, irrespective of whether your customers tend to pay on time or late.
The five stages of factoring
By entering into a factoring agreement with Intermarket Bank, you sell your accounts receivable from your customers.
As soon as you deliver goods on credit to your customers, Intermarket Bank advances an amount of up to 80 - 90 % of the accounts receivable.
Your customer pays directly to Intermarket Bank.
If you wish, we deal with customers whose payments are overdue and send reminders to them.
As soon as your customer settles the debt, you can obtain the outstanding amount.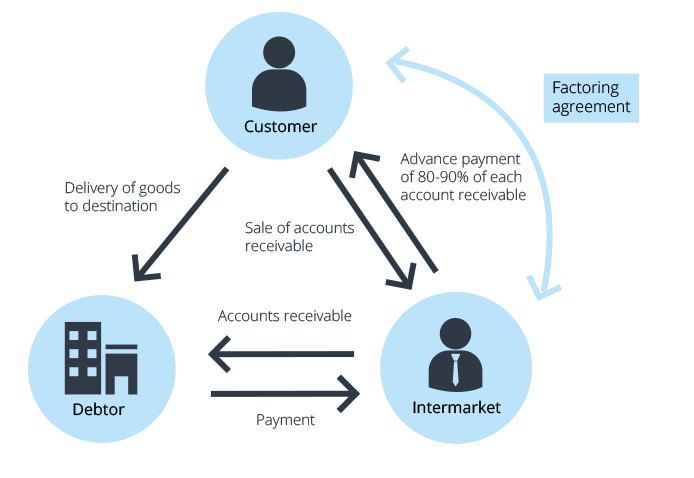 High liquidity has far-reaching advantages. It strengthens your relationship with your suppliers and your bank, as it avoids unnecessary reminder fees or interest on arrears and enables you to use your overdraft facility efficiently. In addition, it has a positive impact on your balance sheet and the rating of your business.
Additional liquidity is also needed for investments or for realising expansion plans. In most cases, the reason for liquidity problems lies in large amounts of receivables, long payment terms, seasonal fluctuations in sales or payment defaults. In such situations, factoring is the best form of financing for more liquidity just when you need it.
The commercial benefits of factoring for businesses

1. Financing in alignment with sales

This financing is perfectly aligned with the trajectory of your business.
When sales rise, your financial needs are secured
Financing is optimally tuned to seasonal fluctuations
No restrictions as to amounts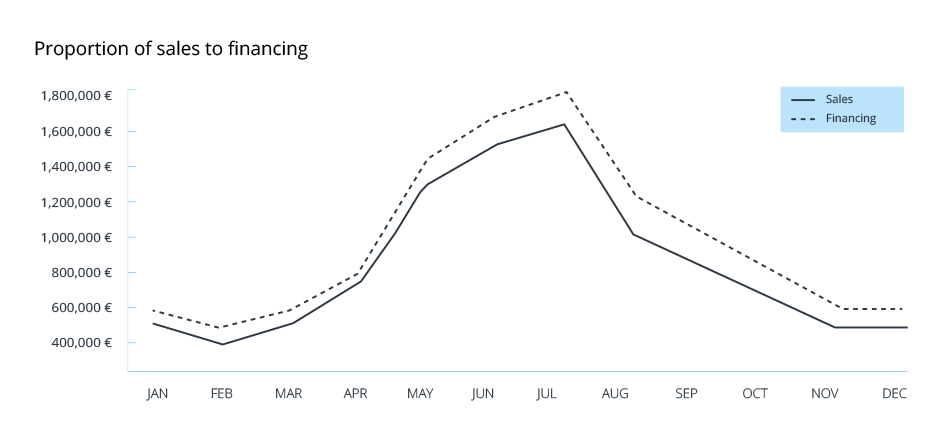 2. Improved equity ratio

Removing accounts receivable improves the structure of your balance sheet.
Lower balance sheet total
Improvement of the factors relevant for the assessment guidelines of banks under Basel II
Comparison of balance sheets WITH and WITHOUT factoring
Assets in thousands of €

WITHOUT
Factoring

WITH
Factoring
Liabilities in thousands of €
WITHOUT
Factoring
WITH
Factoring
Fixed assets


500

500

Equity

250

250

Accounts receivable


600

120

Borrowed capital

400

300

Other current assets

300
300
Trade accounts payable
750
370
Balance sheet total

1,400
920
Balance sheet total

1,400
920

Equity ratio:    WITH Factoring: 27.17 %      -      WITHOUT Factoring: 17.86 %

 
3. Advantages in assessments according to the Basel III guidelines

Better figures for the rating of your business
Direct boost to liquidity through immediate financing
Medium-term improvement of earning power and profitability
Improvement of corporate figures for ratings